Digital Marketing Agency for Moving Companies
Our Result-Oriented, Quick, and Reliable Marketing Strategies Will Do Wonders for the Secure and Continuous Growth of Your Business
The ever-increasing number of relocations taking place throughout the year has resulted in a consistent rise in the demand for moving companies. Studies suggest that up to 31 million people residing in the United States choose to relocate every year.
A significant portion of the growth spurt experienced by moving companies in recent years is due to the increasing number of millennials relocating in search of better academic and career prospects. Currently, around 42% of millennials falling within 25 to 35 years of age are single. These single millennials are more likely to consider moving to another place to get access to better educational, professional, or such other opportunities they might be interested in. Consequently, a moving company must direct its campaigns towards millennials, now more than ever.
If you want to reach out to the millennials to promote your moving company, you should develop and adopt a marketing strategy that resonates with the nature of your target audience. The millennials are known for being tech-savvy and using the internet in their day-to-day lives.  Therefore, the ideal marketing solutions to grab millennials' attention include PPC (pay-per-click) advertisement, SEO, and social media marketing, etc.
Marketing By Ali's digital marketing agency for moving companies will help you initiate some of the most powerful digital marketing techniques capable of establishing your brand and enhancing your leads. We have collaborated with businesses of different sizes and scales for more than 17 years and helped them target audiences from various age groups, education, or geographical backgrounds. The experts working in our digital marketing agency for moving companies will provide you with data-driven marketing campaigns specifically designed to aid you in driving leads and enhancing your business income.
Digital Marketing Services for Moving Companies
Some of the most effective marketing strategies adopted by us that are bound to help your business grow at an incredibly high rate are discussed below:
Marketing By Ali provides you with a wide variety of digital marketing services aimed at boosting your revenues. Our digital marketing experts have years' worth of experience working with moving companies. They can provide you with the best and the most reliable pieces of advice concerning your projects. They will guide you through every step of your projects and will be available for you around the clock. You can put your faith in our digital marketing agency for custom moving companies and trust that it will provide you with five times more income than what you are earning right now.
SEO (Search Engine Optimization) for Moving Companies
Search Engine Optimization (SEO) is one of the most critical elements of our digital marketing services for moving companies due to its ability to leave a significant impact on your website's conversion rates and traffic. What you need is a well-structured SEO strategy that will provide you with a clear understanding of the keywords your content must be optimized for. Our team of SEO experts known for their expertise in search engine optimization (SEO) will provide you with all the relevant services you need in terms of SEO.
Web Design for Moving Companies
Web designing and development serves as a critical component of our digital marketing services for moving companies. We have our very own team of web development and design experts who will not only help you build the best website for your business or brand while ensuring its compliance with the standards prevalent in the industry but also perform complete SEO (Search Engine Optimization) on your website.
Moreover, every single one of the websites created or managed by Marketing By Ali is highly optimized for conversions. This optimization serves a key role in making your website one of the most valuable assets for your bottom-line.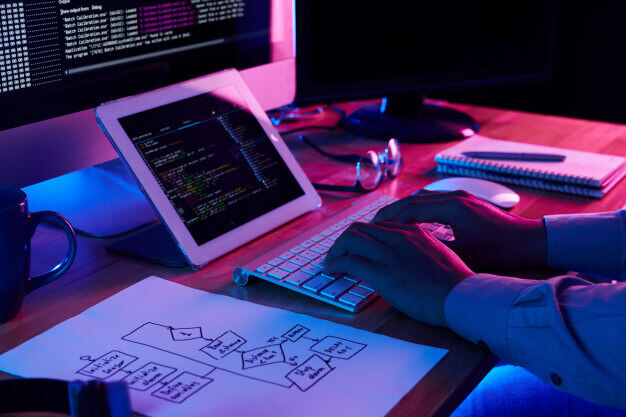 Social Media for Moving Companies
Our team of digital marketing experts for moving companies consists of some of the best, highly qualified, and experienced social media managers capable of helping you build a strong and stable social media following on the most popular social media platforms. We handle all matters relating to the creation of content for your social media accounts, management of your social media profiles,  generation and maintenance of a healthy and positive online presence, and receipt of both paid and organic leads from your social media networks.
PPC for Moving Companies for Moving Companies
You can get immediate results by targeting your audience with pay-per-click (PPC) marketing. Our digital marketing agency for moving companies consists of PPC marketing experts skilled in the creation, operation, and administration of PPC (pay-per-click) ads capable of boosting your conversion rates and providing you with the results you desire. In addition to this, we can provide you with complete PPC (pay-per-click) management services inclusive of remarketing, split testing and performance optimization, etc.
Online Reputation Management
Online reviews are trusted and relied on by a vast majority (over 90%) of the consumers. People have developed the habit of checking online reviews for any products or services they may be interested in and heavily relying on those reviews for all of their purchasing decisions. This explains how significant online customer reviews are for the growth of your business.
However, with us on your team, you have nothing to worry about. Our software for online reputation management and review response service will help you manage and improve your online customer reviews. You can either choose to use our online reputation management software to deal with your online reviews on your own or let our experts do it for you. The choice is yours. However, regardless of the option you choose, our services for online reputation management and review response have the power to not only boost your revenue by five times but also result in a significant increase in your clientele.
Marketing By Ali offers an in-house website hosting service that, in addition to being time-saving and efficient, provides you with the most exclusive and top-notch web hosting features for your website. Regardless of the number of web hosting projects we collaborate with you on, our team will ensure the quick, reliable, and secure delivery of hosting services for every single one of those projects. In addition to putting all your worries to rest, this also ensures the best user experience for your website visitors.
Content writing is a significant component of the moving company digital marketing services we will be providing you with. Regardless of the kind of written content you need, we have a team of creative writers ready to help you out and provide you with the best, well-written, engaging, plagiarism-free, and factually as well as grammatically accurate written content for your emails, landing pages, or blogs, etc. The creative content writers working here at Marketing By Ali hold years' worth of experience in writing content capable of connecting with the audience you are targeting and gently pushing them into taking the actions you desire.
You are just an appointment or a quotation request away from availing of our result-oriented, quick, and reliable digital marketing services.
Our marketing experts have spent years collaborating with various Moving Companies and helping them boost their sales, leads, and conversion rates within a matter of months. Our marketing services have the potential to provide you with a guaranteed boost of up to 5 times in your existing annual sales. In truth, if you hire us, you will not even have to ask for updates or progress. Within the first few months of our collaboration, the results of our marketing strategies will speak for themselves and provide you with a clear picture of the progress and success of our campaigns.
Check out the exciting marketing plans available for moving companies.
Free domain name registration

Upto 2 Email Accounts

Free hosting for 1 year

SSL Certificate (HTTPS)

Basic WordPress

Fully Responsive Design (Desktop, Mobile, Tablet)

Upto 1 Logo Mockups

Up to 7 Pages

Photo Gallery Page

Social Media Link Icons

Blog or news section

Upto 3 Graphic design (including stock images)

Up to 2 Social media integration

Google map integration

Basic Enquiry Form

Newsletter Integration

Basic Home page sliders

Basic SEO/Local SEO

Up to 20 keyphrases optimized

Meta tags (Title & description): Up to 10 Pages

Keyphrase research & selection

Optimization of robots.txt & GoogleBot crawls

Creation & registrations of sitemap.xml

Image XML sitemaps

Internal linking restructuring & optimization

Setup and install Tag Manager (Basic)

Google Analytics setup

Google Analytics traffic analysis (Basic)

Setup Google Search Console

Sitemap Submit in Google Webmaster

Robots.txt. optimization

Make SEO Friendly URL Structure

Upto 20 Local directory submission (Free Listing)

Upto 100 Social Bookmarking

Up to 30 Directory Submissions

Press Releases Disputations
- write and distribute a professional press
- Upto 100 news sites including Google news, Digital Journal. Full PDF Distribution Report

Basic Local search optimization

Image SEO - Optimizing images for search engines

Custom 404 error page setup and optimization

Header Tags Optimized (Ex. H1s)

Duplicate content analysis

Blog Posts (Up to 3 posts per Month)

Blog optimization

Loading time optimization

Google My Business optimization

Bing Webmaster

Classified Ads Submissions (Up to 5 live ads)

RSS Feed Submissions

Website Analysis

Ongoing monthly keyword reporting

Ongoing monthly ROI, traffic, & goal reporting (Basic Report)

Create Location pages

Basic Social media marketing management services

1 SOCIAL NETWORK

Up to 3 Posts per Month

Up to 3 Custom Images per Month Included with Posts

Cover Photo & Profile Photo Design/Optimization

Email Marketing (Basic)

Email marketing strategy

Set up email service provider, templates, and branding

Set up autoresponders

Pay Per Click - PPC Management

Re-targeting / Remarketing Ads

Up to 1 Tracking Pixel

A/B Testing
Free domain name registration

Upto 3 Email Accounts

Free hosting for 1 year

SSL Certificate (HTTPS)

Standard WordPress

Fully Responsive Design (Desktop, Mobile, Tablet)

Upto 2 Logo Mockups

Up to 10 Pages

Photo/Video Gallery Page

Social Media Link Icons

Blog or news section

Upto 6 Graphic design (including stock images)

Up to 3 Social media integration

Google map integration

Standard Enquiry Form

Newsletter Integration

Standard Home page sliders

Standard SEO/Local SEO

Up to 50 keyphrases optimized

Meta tags (Title & description): Up to 20 Pages

Keyphrase research & selection

Optimization of robots.txt & GoogleBot crawls

Creation & registrations of sitemap.xml

Video and image XML sitemaps

Internal linking restructuring & optimization

Setup and install Tag Manager (Standard)

Google Analytics setup/ conversion tracking

Google Analytics traffic analysis (Standard)

Setup Google Search Console

Sitemap Submit in Google Webmaster

Robots.txt. optimization

Make SEO Friendly URL Structure

Upto 50 Local directory submission (Free Listing)

Upto 200 Social Bookmarking

Up to 100 Directory Submissions

Press Releases Disputations
- write and distribute a professional press
- Upto 200 news sites including Google news, Digital Journal. Full PDF Distribution Report

Standard Local search optimization

Image SEO - Optimizing images for search engines

Custom 404 error page setup and optimization

Header Tags Optimized (Ex. H1s)

Duplicate content analysis

Blog Posts (Up to 4 posts per Month)

Blog optimization

Loading time optimization

Google My Business optimization

Sitemap Submit in Bing Webmaster

Classified Ads Submissions (Up to 10 live ads)

RSS Feed Submissions

Website & Competitor Analysis

Ongoing monthly keyword reporting

Ongoing monthly ROI, traffic, & goal reporting (Standard Report)

Create Location pages

Standard Social media marketing management services

3 SOCIAL NETWORK

Up to 4 Posts per Month

Up to 4 Custom Images per Month Included with Posts

Cover Photo & Profile Photo Design/Optimization

Email Marketing (Standard)

Email marketing strategy

Set up email service provider, templates, and branding

Set up autoresponders

Pay Per Click - PPC Management

Re-targeting / Remarketing Ads

Up to 2 Tracking Pixel

A/B Testing
Free domain name registration

Upto 5 Email Accounts

Free hosting for 1 year

SSL Certificate (HTTPS)

Premium WordPress

Fully Responsive Design (Desktop, Mobile, Tablet)

Upto 3 Logo Mockups

Up to 30 Pages

Photo/Video Gallery Page

Social Media Link Icons

Blog or news section

Upto 15 Graphic design (including stock images)

Up to 5 Social media integration

Google map integration

Premium Enquiry Form

Newsletter Integration

Premium Home page sliders

Premium SEO/Local SEO

Up to 300 keyphrases optimized

Meta tags (Title & description): Up to 50 Pages

Keyphrase research & selection

Optimization of robots.txt & GoogleBot crawls

Creation & registrations of sitemap.xml

Video and image XML sitemaps

Internal linking restructuring & optimization

Setup and install Tag Manager (Premium)

Google Analytics setup/ conversion tracking

Google Analytics traffic analysis (Premium)

Setup Google Search Console

Sitemap Submit in Google Webmaster

Robots.txt. optimization

Make SEO Friendly URL Structure

Upto 100 Local directory submission (Free Listing)

Upto 800 Social Bookmarking

Up to 350 Directory Submissions

Press Releases Disputations
- write and distribute a professional press
- Upto 400 news sites including Google news, Digital Journal. Full PDF Distribution Report

Premium Local search optimization

Image SEO - Optimizing images for search engines

Custom 404 error page setup and optimization

Header Tags Optimized (Ex. H1s)

Duplicate content analysis

Blog Posts (Up to 8 posts per Month)

Blog optimization

Loading time optimization

Google My Business optimization

Sitemap Submit in Bing Webmaster

Classified Ads Submissions (Up to 20 live ads)

RSS Feed Submissions

Website & Competitor Analysis

Ongoing monthly keyword reporting

Ongoing monthly ROI, traffic, & goal reporting (Premium)

Create Location pages

Premium Social media marketing management services

5 SOCIAL NETWORK

Up to 8 Posts per Month

Up to 8 Custom Images per Month Included with Posts

Cover Photo & Profile Photo Design/Optimization

Email Marketing (Premium)

Email marketing strategy

Set up email service provider, templates, and branding

Set up autoresponders

Pay Per Click - PPC Management

Re-targeting / Remarketing Ads

Up to 3 Tracking Pixel

A/B Testing